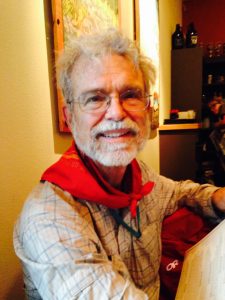 Albert Louis Wallace III
December 26, 1948—October 18, 2019
Al was born in Dayton, Ohio, but always considered Oregon home. He attended St. James School in Hagerstown, MD, graduated from Johns Hopkins University, and was an Army Officer before becoming a CPA. He practiced primarily in Hawaii and Southern California, before retiring to his home in Orange, CA. A few months ago, after spending the winter in Hawaii, he and Donna moved into their new home in Vancouver, Washington.
Al unexpectedly passed away of a heart attack. Donna, his wife and love of his life was with him holding his hand. A few weeks earlier he had been diagnosed with stage IV cancer after only a few weeks of feeling ill. He will be sorely missed.
He is survived by this loving wife, Donna, and his two children, Surely and Albert, his sister Joan, and  Donna's many grandchildren who call him grandpa.
A service to celebrate his life was held on Saturday, November 2nd, at 2:00 PM at the Portland Center for Spiritual Living, 6211 N.E. Martin Luther King, Jr. Blvd., Portland, Oregon 97211. You can listen to the one-hour memorial (including personal sharing by his wife, sister and other family members and friends) online here. The audio contains original music by LaRhonda Steele and performed by LaRhonda Steele and  Ken Brewer.
In lieu of flowers, please consider a donation to "In Honor of Albert Wallace," to the Pacific Crest Trail Association, 1331 Garden Highway, Sacramento, CA 95633.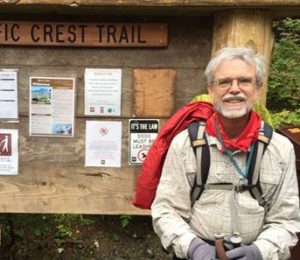 Al, or Stargazer, was a solo through hiker on the Pacific Crest Trail in 2015. Obviously in great health, he completed all 2650 miles of the trail from the Mexico to Canada. At the onset, he said he wanted to hike the trail to look at the stars and the milky way every night. Donna supported him throughout the months it took to complete his journey, as did many of his friends and family. He wrote a book about his experiences, that we hope to someday publish. Here is an excerpt:
I sat under the tamarack trees and was drenched in the warm glow of the setting sun. It was the perfect spot, the grand paradise experience, and a moment in my life that for the first time I felt at peace with the world and myself exactly as it was becoming. I was imbedded in the fabric of the universe and it was imbedded in me. It was the moment of my acceptance of the interconnectedness of all cosmic forms and their timelessness. —Albert Louis Wallace