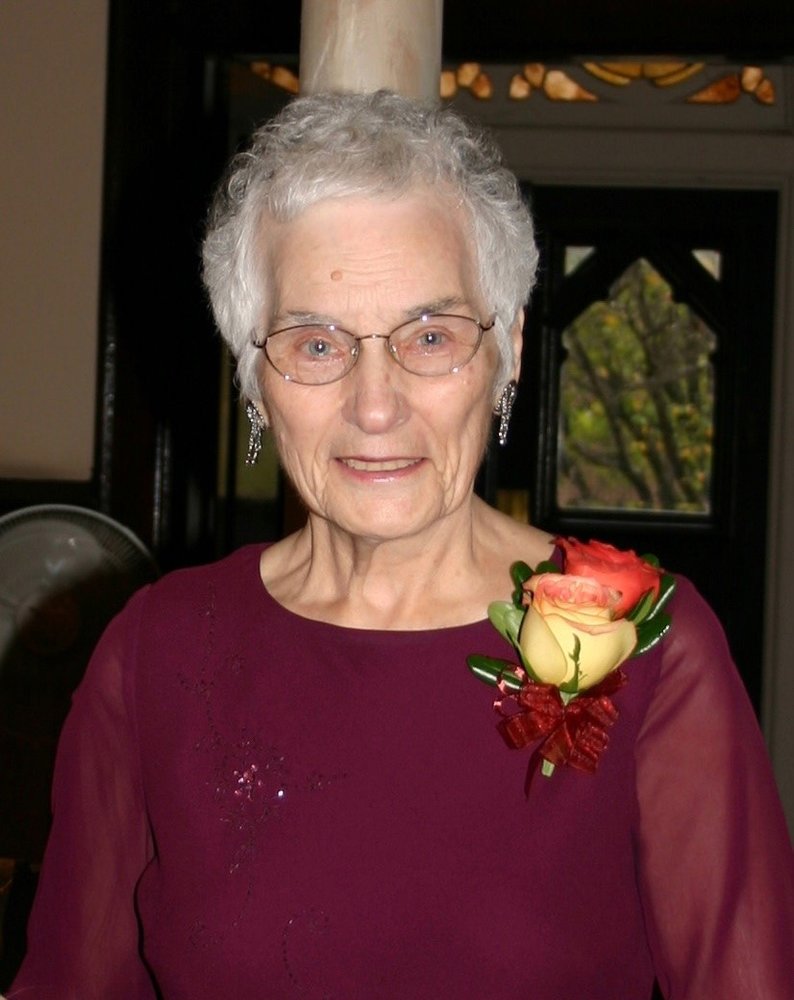 Laura Bradley
May 25, 1926—March 29, 2021
Laura Bradley, beloved mother, grandmother and great grandmother passed away on March 29, 2021 of natural causes. In her final days Laura was surrounded by her family and friends who were lucky enough to say goodbye.
At 94-years-old Laura lived a full and vibrant life that spanned decades and states before she settled in Oregon to start a family. Laura was independent up to the very end of her life which was exactly as she wanted it.
Laura was born in Algona, Iowa on May 25, 1926 to Carl B Albright and Stella Gross. Laura was the eldest of four siblings and had a large extended family as her mother was one of 18 children. In the 1930s Laura and her family lived in Hayfield, Minnesota on a farm with no running water or refrigeration. Laura recalled cold nights going to the outhouse in the Minnesota winters. Life in Minnesota was hard as the Great Depression descended on the US but Laura made many happy memories with her younger sister Terry whom she cherished.
In Laura's early teenage years her mother left the family and Laura raised her younger siblings and helped her father Carl. She adored her father who had a quick wit and dry humor that she inherited. Laura remained in Hayfield and graduated high school in 1944. She was lifelong friends with several of her classmates.
The next years of Laura's life were an adventure and she was far ahead of her time in her independence. In 1947 she drove a pickup truck to California to meet up with her high-school sweetheart. The young couple then drove across the country to settle in Babson, Park Florida. They married in 1947 but were divorced by 1949. Laura then wound up back in Chicago where her sister was living and met her second husband Mason P. Buck, a tennis pro.
Laura and Mason moved to Palm Beach for his career, and she taught for the Aurthur Murray Dance Studio. It was there she taught the Roosevelt's grandsons to dance. Laura loved the warm sun of Florida – a stark contrast to Minnesota. During her time in Florida, she and Mason traveled to Key West and Cuba many times in the 1950s. Laura loved the bright colors of Cuba and learned some Spanish from her travels.
In 1959, Laura and Mason divorced and she left Florida for a new job in Philadelphia. Laura was not in Philadelphia long, in October 1959 she was transferred to Portland, Oregon and served as an Office Manager for General Tire Corporation and Western Photo Mount. She bought her own home on NE 113th street by herself in 1962, an admirable feat for a single divorcee. She was a true lady of the 1960s and her interior design was imbued with her personality. She decorated her house in bold turquoise colors and her home had a large mural of zebras.
In 1965, Laura's friend dragged her to a "Parents Without Partners" dance despite her having no child at the time. It was at this dance she met the love of her life, divorcee William "Bill" Bradley. He was smitten. They were married the next year in 1966 and Laura became stepmom to Bill's two teenage children Peggy and Patricia. Having spent many years helping raise other people's children, Laura wanted a child of her own. In 1969 her wish came true as Bill and Laura adopted Christopher Neil Bradley.
While living in the Parkrose area, Bill and Laura became friends their politically active neighbors including Barbara Roberts, who was involved with the local PTA. Barbara was a lifelong friend and they supported her throughout her political career. Bill was elected Oregon State House of Representatives, four times. Laura served as his secretary during two of those terms in the 1970's. It was also in these years that Laura met her best friend June Gumz – the two shared a friendship that spanned five decades. June and Laura visited often and during Covid they spoke on the phone every day.
In 1982, Bill and Laura built their dream home in Corbett, Oregon. They loved being near the trees and in the country. During these years they loved to entertain family and friends and visit with their grandchildren. It was also during these years they inherited a farm in Eudora, Arkansas that they tended to for many years, crossing the country to split time until they sold the property to their good friends and neighbors the Hensley family.
One of Laura's greatest joys in life was attending church and fellowship with friends. She attended the Portland Center for Spiritual Living for 35 years. She loved helping Reverend Larry King edit his sermons and counted him as a trusted spiritual advisor and close friend.
After 47 years of marriage, Bill passed away in 2013 and Laura moved to Somerset Lodge Independent Living where she quickly made friends. Laura lived a long and full life – passing just 6 weeks shy of her 95th birthday. Her parting wish to her family was for everyone to "have a great life" and she made sure to tell her children she would be ok.
Laura will be deeply missed for her kindhearted spirit, dry wit and quiet charm. She is survived by her son, C. Neil Bradley (Valerie), stepdaughters Peggy Bradley (Andy), Patricia Ridgley (Randall). Her sister, Terry Albright Addison, brother, Dennis Albright. Granddaughters, Sarah Ridgley Kowalski (Brian), Lauren Ridgley (Ryan Pitz), Danny Bradley, and Nicole Bradley. She had four great grandchildren and numerous nieces and nephews.
Laura is interred with Bill at Willamette National Cemetery. There will be a memorial service to celebrate her long life with friends and family July 29th at home of Patricia and Randall Ridgley, 1079 N Alder Street, Canby Oregon.
Obituary reprinted with permission by Laura's family and posted at Sunnyside Funeral, Cremation & Memorial Gardens.