We generally offer one or two CSL-Certified classes each term. You may register for them at the back of the sanctuary in the Center, or online (below). Our Certified classes count towards meeting requirements for entering Practitioner Studies, but are also taken for personal enrichment. If you're not in the Portland metropolitan area, many of our classes are offered online utilizing "Zoom" teleconferencing. Watch for classes marked "(online)." You may also be interested in our self-study guides.
CSL Classes Currently Offered
---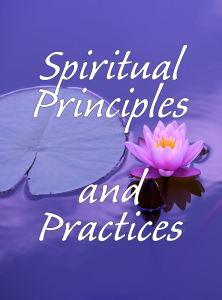 Facilitated by Rev. Larry King
5 Weeks; Tuesdays, 2/2/2021—3/2/2021; 6—8:30 PM PST.

In this online class you will discover proven practices that bring spiritual principle into action allowing you to manifest desired goals and intentions. Through affirmative prayer, self-awareness, meditation, visioning and gratitude you will learn to harness the power of the divine creative process and change your life forever.
(more…)
---
Here is a list of CSL Certified Classes to be offered over the next several years:
2021
Winter
Spiritual Principles and Practices – (I, Tu, P, O) 5 wks (online)
---
Key to codes in parenthesis
CSL Class Category:
I — Foundational Level Coursework
II — Ernest Holmes Philosophy
III — History/Philosophy Coursework
IV — Consciousness Studies
V — Consciousness Electives
Days of Week: M, Tu, W, Th, F, Sa, Su
Day or Night Class: A, P
Online Class: O