We generally offer one or two CSL-Certified classes each term. You may register for them online (below). Our Certified classes count towards meeting requirements for entering Practitioner Studies, but are also taken for personal enrichment.
Click on the class title or picture for more information, prices and to register. Our classes are currently offered online.
CSL Classes Currently Available for Registration
---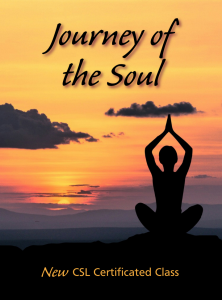 New CSL Certificated Class
Facilitated by Rev. Marilyn Sprague
6-Weeks; Thursday Evenings
2/3/2022—3/10/2022; 5:00—8:00 PM PT
This CSL certificated class offers the principles of Science of Mind with an emphasis on daily meditation, emotional healing, soul presence, self-love, practical application, and life direction. Combining the integrative principles and techniques from spiritual psychology with the power of the Science of Mind philosophy, this class offers a dynamic opportunity for exploring and expressing your authentic self.
This class is held online in our virtual class room. Details, including your Zoom link, will be sent upon registration.