Due to guidelines from the Oregon Health Authority, we are exclusively conducting our services online during the month of October.
10:50 AM — Prelude Music with the "Friends" Band
11:00 AM — Celebration Service
Talk Title: "The Money Myth"
Speaker: Rev. Larry King
Featuring Julia Cameron's The Prosperous Heart
What if I were to tell you that most of what you believe to be true about money is wrong? Find out the truth about money and the more important concept of sufficiency. The Universe is abundant—maybe it's time to begin attracting it into your life.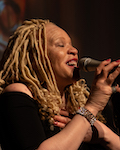 Inspirational Music from
Our Music Director:
LaRhonda Steele
"…the legacy of the love of music will continue on through and as the irresistible soul music of LaRhonda Steele."
---