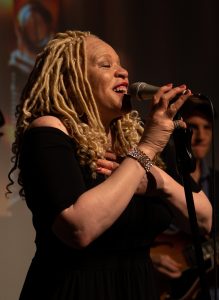 LaRHONDA STEELE began her musical journey in Jones, Oklahoma at age 13 singing her first solo in church one Sunday morning. The journey continued to Portland, Oregon and is an amazing legacy of musical experiences for which she is ever Awed and Grateful.
Over the years she has enjoyed performing and recording with national, international and local artists such as Curtis Salgado, Taj Mahal, Norman Sylvester, Linda Hornbuckle, Janice Scroggins, Paul Delay, Obo Addy, Thara Memory, Ken DeRouchie, NW Women in Blues, Mark Bosnian and Linda Rossi/Out of the Blue w/Mark Steele and so many more.
Performing at the Lincoln Center with Obo Addy in 2005, her Etta James Tribute performances and yearly appearance at the Waterfront Blues Festivals, the Bite and Rose Festival are just a few of the myriad highlights of her career. These days LaRhonda is a staple on the Oregon music scene, having earned her renown the hard way… singing and singing and singing.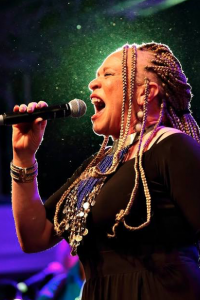 She says "Portland is the perfect place to have and raise a family." Her daughters and husband Mark Steele love living in this, their community. Daughters Lauren and Sarah are budding performing artists in their own right and make their parents so proud.
LaRhonda and her husband Mark enjoy writing music together, and have produced their current collaboration "Artistic Differences." The CD features 12 original songs written and co-written by the duo.
Returning to Gospel roots, LaRhonda enjoys working with The Group, directing The Portland Interfaith Gospel Choir and music ministries at PCSL (Portland Center for Spiritual Living) where she served for 8 years as Chorus Director. LaRhonda performs at NTCSL (New Thought Center for Spiritual Living) in Lake Oswego and the Center for Spiritual Living in Portland, Oregon where she is the current Music Director.
Thankful for the support she has received from the musical community and fans, the legacy of the love of music will continue on through and as the irresistible soul music of LaRhonda Steele.
503-288-2083
Email: mamamooby@hotmail.com
http://www.larhondasteele.com