Due to new guidelines from the Oregon Health Authority, we are exclusively conducting our services online during the month of September.
10:50 AM — Prelude Music with the "Friends" Band
11:00 AM — Celebration Service
Talk Title: "The Secret of Success"
Speaker: Rev. Larry King
Featuring Raymond Charles Barker's Treat Yourself to Life
Have you defined what success means to you? Do you feel free to pursue your dreams? Using the power of affirmative prayer you can accomplish all this—and more. Prayer for Success is included.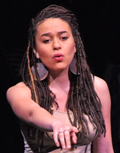 Inspirational Music from
Special Guest:
Lo Steele
"Whether the medium is music, theatre or spoken word, Steele uses her platform to call attention to issues of love, race, equality, self love and forgiveness, "
---