The Center for Spiritual Living has partnered with other New Thought churches and centers in the greater Portland metropolitan area to form the New Thought Justice Collaborative.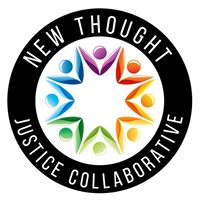 New Thought spirituality includes Unity and Science of Mind and is a spiritual practice and way of life that welcomes those of all religious backgrounds. We believe that we all thrive when we live in an inclusive and diverse world that works for everyone. Our social justice work is dedicated to creating such a world.
Visit the Facebook page where those in the New Thought spiritual community can share and find announcements of upcoming social justice events in the Portland, Oregon area, and post information and photos about those events.
Here is a list of events directly sponsored by the local Centers for Spiritual Living:
Social Justice Book Club
We meet 12:30-2:00 PM on the first Saturday of every month at the Center for Spiritual Living in Portland; 6211 NE Martin Luther King., Jr., Blvd. Everyone is welcome. Note: you can order the books online at Amazon.com by clicking on the links.
Dates and Books Discussed:
Saturday, January 6, 2018—Deep Denial by David Billings
Saturday, February 3, 2018—Brainwashed by Tom Burrell
Saturday, March 3, 2018—White Rage by Carol Anderson
Saturday, April 7, 2018—Can We Talk About Race? by Beverly Daniel Tatum
Saturday, May 5, 2018—White Awake: An Honest Look at What it Means to be White by Daniel Hill
Saturday, June 2, 2018—The Underground Railroad by Colton Whitehead
Saturday, July 14, 2018—Their Eyes Were Watching God by Zora Neale Hurston
Saturday, August 4, 2018—The Color Purple by Alice Walker
Saturday, September 1, 2018—White Fragility: Why It's So Hard to Talk to White People About Racism by Dr. Robin DiAngelo (this book is being used in October, also)
Saturday, October 6, 2018—White Fragility: Why It's So Hard to Talk to White People About Racism by Dr. Robin DiAngelo
Saturday, November 3, 2018—Stranger: The Challenge of a Latino Immigrant in the Trump Era by Jorge Ramos
Saturday, December 1, 2018—Book to be announced