Here's a list of the books that our Social Justice Book club has studied. They are highly recommended if you would like to better understand racism in America today. If you would like to purchase the books, clicking on the links will take you to Amazon.com.
---
White Like Me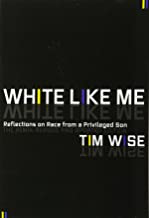 by Tim Wise
White Like Me is one-part memoir, one-part polemical essay collection. It is a personal examination of the way in which racial privilege shapes the daily lives of white Americans in every realm: employment, education, housing, criminal justice, and elsewhere. Tim Wise demonstrates the ways in which racism not only burdens people of color, but also can harm whites in the long run and make progressive social change less likely.
---
Tears We Cannot Stop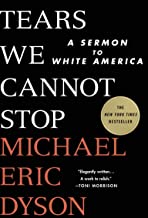 by Michael Eric Dyson
Short, emotional, literary, powerful―Tears We Cannot Stop is the book that all Americans who care about the current and long-burning crisis in race relations will want to read. As the country grapples with racist division at a level not seen since the 1960s, one man's voice soars above the rest with conviction and compassion. Dyson argues that if we are to make real racial progress we must face difficult truths, including being honest about how black grievance has been ignored, dismissed, or discounted.
---
Waking Up White, and Finding Myself in the Story of Race by Debby Irving
For twenty-five years, Debby Irving sensed inexplicable racial tensions in her personal and professional relationships. Then, in 2009, one "aha!" moment launched an adventure of discovery and insight that drastically shifted her worldview and upended her life plan. In Waking Up White, Irving tells her often cringe-worthy story with such openness that readers will turn every page rooting for her-and ultimately for all of us.
---
Between the World and Me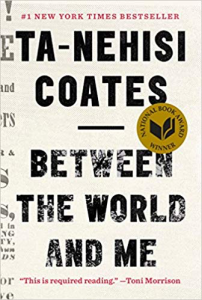 by Ta-Nehisi Coates
In a profound work that pivots from the biggest questions about American history and ideals to the most intimate concerns of a father for his son, Ta-Nehisi Coates offers a powerful new framework for understanding our nation's history and current crisis. Americans have built an empire on the idea of "race," a falsehood that damages us all but falls most heavily on the bodies of black women and men.
---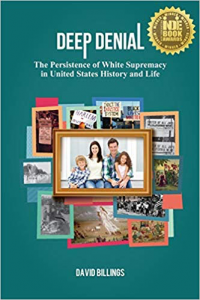 Deep Denial: The Persistence of White Supremacy in in United States History and Life by David Billings
Deep Denial, part popular history and part personal memoir, documents the 400-year racialization of the United States and how people of European descent came to be called white. Author David Billings focuses primarily on the deeply embedded notion of white supremacy, and tells us why, despite the Civil Rights Movement and an African-American president, we remain, in the words of the author, a nation hard-wired by race.
---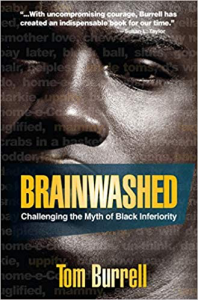 Brainwashed: Challenging the Myth of Black Inferiority by Tom Burrell
"Black people are not dark-skinned white people," says advertising visionary Tom Burrell. In fact, they are much more. They are survivors of the Middle Passage and centuries of humiliation and deprivation, who have excelled against the odds, constantly making a way out of "No way!" At this pivotal point in history, the idea of black inferiority should have had a "Going-Out-of-Business Sale."
---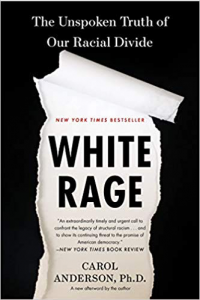 White Rage, The Unspoken Truth of Our Racial Divide by Carol Anderson
Carefully linking historical flashpoints when social progress for African Americans was countered by deliberate and cleverly crafted opposition, Anderson pulls back the veil that has long covered actions made in the name of protecting democracy, fiscal responsibility, or protection against fraud, rendering visible the long lineage of white rage. Compelling and dramatic in the unimpeachable history it relates, White Rage will add an important new dimension to the national conversation about race in America.
---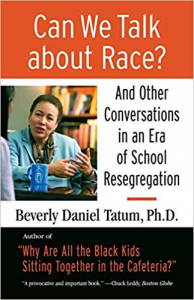 Can We Talk About Race? by Dr. Beverly Daniel Tatum
In this ambitious, accessible book, Tatum examines some of the most resonant issues in American education and race relations:
The need of African American students to see themselves reflected in curricula and institutions
How unexamined racial attitudes can negatively affect minority-student achievement
The possibilities—and complications—of intimate cross-racial friendships


---
White Awake: An Honest Look at What It Means to Be White by Daniel Hill
In this compelling and timely book, Daniel Hill shows you the seven stages to expect on your own path to cultural awakening. It's crucial to understand both personal and social realities in the areas of race, culture, and identity. This book will give you a new perspective on being white and also empower you to be an agent of reconciliation in our increasingly diverse and divided world.
---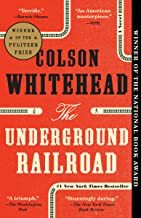 The Underground Railroad by Colson Whitehead
Cora is a young slave on a cotton plantation in Georgia. An outcast even among her fellow Africans, she is on the cusp of womanhood—where greater pain awaits. And so when Caesar, a slave who has recently arrived from Virginia, urges her to join him on the Underground Railroad, she seizes the opportunity and escapes with him. As Colson Whitehead brilliantly re-creates the terrors of the antebellum era, he weaves in the saga of our nation, from the brutal abduction of Africans to the unfulfilled promises of the present day. The Underground Railroad is both the gripping tale of one woman's will to escape the horrors of bondage—and a powerful meditation on the history we all share.
---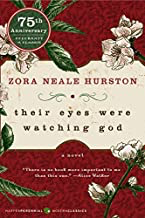 Their Eyes Were Watching God by Zora Neale Thurston
One of the most important and enduring books of the twentieth century, Their Eyes Were Watching God brings to life a Southern love story with the wit and pathos found only in the writing of Zora Neale Hurston. Out of print for almost thirty years—due largely to initial audiences' rejection of its strong black female protagonist—Hurston's classic has since its 1978 reissue become perhaps the most widely read and highly acclaimed novel in the canon of African-American literature.
---
The Color Purple by Alice Walker
A powerful cultural touchstone of modern American literature, The Color Purple depicts the lives of African American women in early twentieth-century rural Georgia. Separated as girls, sisters Celie and Nettie sustain their loyalty to and hope in each other across time, distance and silence. Through a series of letters spanning twenty years, first from Celie to God, then the sisters to each other despite the unknown, the novel draws readers into its rich and memorable portrayals of Celie, Nettie, Shug Avery and Sofia and their experience.
---
White Fragility: Why It's So Hard For White People To Talk About Racism by Robin DiAngelo
Antiracist educator Robin DiAngelo deftly illuminates the phenomenon of white fragility and "allows us to understand racism as a practice not restricted to 'bad people.' Referring to the defensive moves that white people make when challenged racially, white fragility is characterized by emotions such as anger, fear, and guilt, and by behaviors including argumentation and silence. In this in-depth exploration, DiAngelo examines how white fragility develops, how it protects racial inequality, and what we can do to engage more constructively.
---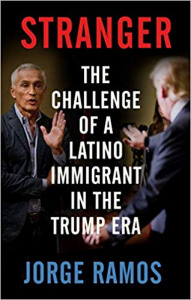 Stranger: The Challenge of a Latino Immigrant in the Trump Era by Jorge Ramos
In this personal manifesto, Ramos sets out to examine what it means to be a Latino immigrant, or just an immigrant, in present-day America. Using current research and statistics, with a journalist's nose for a story, and interweaving his own personal experience, Ramos shows us the changing face of America while also trying to find an explanation for why he, and millions of others, still feel like strangers in this country.
---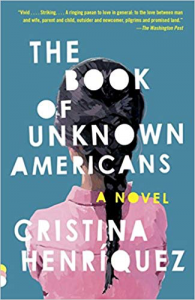 The Book of Unknown Americans by Cristina Henriquez
When fifteen-year-old Maribel Rivera sustains a terrible injury, the Riveras leave behind a comfortable life in Mexico and risk everything to come to the United States so that Maribel can have the care she needs. Henríquez seamlessly interweaves the story of star-crossed lovers, and of the Rivera and Toro families, with the many testimonials of men and women who have come to the United States from all over Latin America. The Book of Unknown Americans is a stunning novel of hopes and dreams, guilt and love—a book that offers a resonant new definition of what it means to be American.
---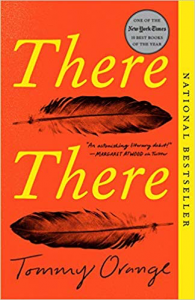 There There by Tommy Orange
Tommy Orange's wondrous and shattering novel follows twelve characters from Native communities: all traveling to the Big Oakland Powwow, all connected to one another in ways they may not yet realize. A chorus of voices tells of the plight of the urban Native American—grappling with a complex and painful history, with an inheritance of beauty and spirituality, with communion and sacrifice and heroism. Hailed as an instant classic, There There is at once poignant and unflinching, utterly contemporary and truly unforgettable.
---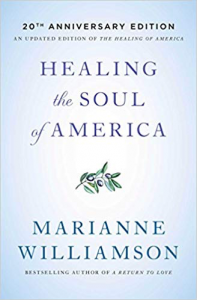 Healing the Soul of America by Marianne Williamson
In the twentieth anniversary edition of Healing the Soul of America, Marianne Williamson reclaims her powerful voice for social conscience in American society. This is a time, according to Williamson, for Americans to return once again to our first principles, both politically and spiritually. Here, Williamson draws plans to transform the American political consciousness and encourage powerful citizen involvement to heal our society.
---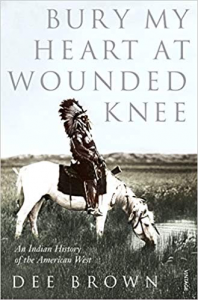 Bury My Heart at Wounded Knee by Dee Brown
The American West, 1860-1890: years of broken promises, disillusionment, war and massacre. Beginning with the Long Walk of the Navajos and ending with the massacre of Sioux at Wounded Knee, this extraordinary book tells how the American Indians lost their land, lives and liberty to white settlers pushing westward. Woven into a an engrossing saga of cruelty, treachery and violence are the fascinating stories of such legendary figures as Sitting Bull, Cochise, Crazy Horse and Geronimo. First published in 1970, Dee Brown's brutal and compelling narrative changed the way people thought about the original inhabitants of America, and focused attention on a national disgrace.
---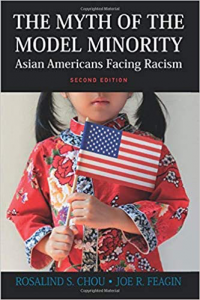 The Myth of the Model Minority by Rosalind S. Chou and Joe R. Feagin
The second edition of this book adds research on how racial stereotyping is gendered and sexualized.  Data reveals how race, gender, and sexuality intersect in the lives of Asian Americans. The text retains all the features of the renowned first edition, which offered the first in-depth exploration of how Asian Americans experience and cope with everyday racism. The book depicts the "double consciousness" of many Asian Americans―experiencing racism but feeling the pressures to conform to popular images of their group as America's highly achieving "model minority."
---
Disciplines of the Spirit by Howard Thurman
Dr. Howard Thurman (1900-1981)—minister, educator, philosopher, and poet, explores five major dimensions of the spiritual life. "The purpose of this book is to examine specific aspects of human experience. These aspects are chosen because of their universality and because of their significance for tutoring the human spirit. There are five such areas included in the discussion: commitment, growth, suffering, prayer and reconciliation."
---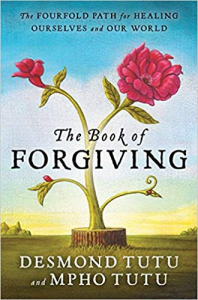 The Book of Forgiving by Desmond Tutu and Mpho Tutu
Archbishop Desmond Tutu, Nobel Peace Prize winner, Chair of The Elders, and Chair of South Africa's Truth and Reconciliation Commission, along with his daughter, the Reverend Mpho Tutu, offer a manual on the art of forgiveness—helping us to realize that we are all capable of healing and transformation.
Tutu's role as the Chair of the Truth and Reconciliation Commission taught him much about forgiveness. If you asked anyone what they thought was going to happen to South Africa after apartheid, almost universally it was predicted that the country would be devastated by a comprehensive bloodbath. Yet, instead of revenge and retribution, this new nation chose to tread the difficult path of confession, forgiveness, and reconciliation.
---
Gracism: The Art of Inclusion by Dr. David A. Anderson
When people deal with color, class or culture in a negative way, that's racism. But the answer is not to ignore these as if they don't matter. Instead, we can look at color, class and culture in a positive way. That's gracism. Pastor David Anderson responds to prejudice and injustice with the principle of gracism: radical inclusion for the marginalized and excluded. Building on the apostle Paul's exhortations in 1 Corinthians 12 to honor the weaker member, Anderson presents a biblical model for showing special grace to others on the basis of ethnicity, class or other social distinction.
---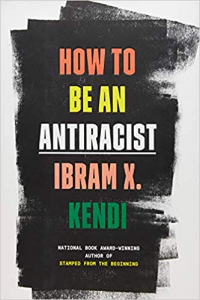 How To Be An Antiracist by Ibram X. Kendi
Antiracism is a transformative concept that reorients and reenergizes the conversation about racism—and, even more fundamentally, points us toward liberating new ways of thinking about ourselves and each other. At it's core, racism is a powerful system that creates false hierarchies of human value; its warped logic extends beyond race, from the way we regard people of different ethnicities or skin colors to the way we treat people of different sexes, gender identities, and body types.
---
A Young People's History of the United States by Howard Zinn
A Young People's History of the United States brings to US history the viewpoints of workers, slaves, immigrants, women, Native Americans, and others whose stories, and their impact, are rarely included in books for young people. It also presents a radical new way of understanding America's history. In so doing, Zinn reminds readers that America's true greatness is shaped by our dissident voices, not our military generals.
---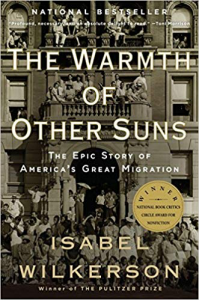 The Warmth of Other Suns: The Epic Story of America's Great Migration by Isabel Wilkerson
From 1915 to 1970, this exodus of almost six million people changed the face of America. Wilkerson compares this epic migration to the migrations of other peoples in history. She interviewed more than a thousand people, and gained access to new data and official records, to write this definitive and vividly dramatic account of how these American journeys unfolded, altering our cities, our country, and ourselves.
---
The Battle For Paradise: Puerto Rico Takes on the Disaster Capitalists by Naomi Klein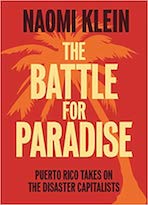 Hurricanes Irma and María unmasked the colonialism we face in Puerto Rico, and the inequality it fosters, creating a fierce humanitarian crisis. Now Puerto Ricans and ultrarich "Puertopians" are locked in a pitched struggle over how to remake the island. In this vital and startling investigation, bestselling author and activist Naomi Klein uncovers how the forces of shock politics and disaster capitalism seek to undermine the nation's radical, resilient vision for a "just recovery."
---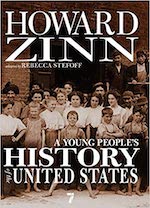 A Young People's History of the United States: Columbus to the War on Terror by Howard Zinn and Rebecca Stefoff
A Young People's History of the United States brings to US history the viewpoints of workers, slaves, immigrants, women, Native Americans, and others whose stories, and their impact, are rarely included in books for young people. The book begins with a look at Christopher Columbus's arrival through the eyes of the Arawak Indians, then leads the reader through the struggles for workers' rights, women's rights, and civil rights during the nineteenth and twentieth centuries, and ends with the current protests against continued American imperialism.
---