10:50 AM — Prelude Music with the "Friends" Band
11:00 AM — Celebration Service
Talk Title: "Beyond the Rabbit's Foot"
Speaker: Rev. Larry King
Featuring Florence Scovel Shinn's The Game of Life and How to Play It.
Let's dispel the myth of "luckiness." There are no lucky or unlucky people or situations. The things that present themselves as obstacles to your success will always succumb to the Law of Resistance.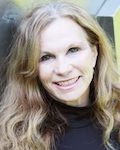 Inspirational Music from
Special Guest Artist:
Paulette Holley
Beloved performer in the local Portland area and member of the Interfaith Gospel Choir.
---