10:50 AM — Prelude Music with the "Friends" Band
11:00 AM — Celebration Service
Talk Title: "The Peaceful Revolution"
Speaker: Rev. Larry King
Featuring Marilyn Mills' One World, One Heart
We all want greater peace in the world, but how do we accomplish this in the midst of all the discord and upheaval? Learn the keys to both inner and outer peace as we examine a revolution in thought.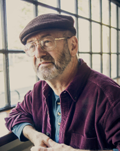 Inspirational Music from our Special Guest,
Ken Brewer
With a passion for both teaching and performance, Ken is very busy in and around the Portland metropolitan area.
---