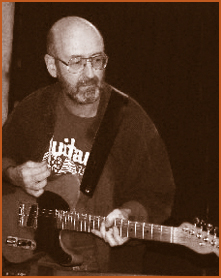 KEN BREWER grew up playing guitar and piano, studying Music Education at the University of Bridgeport. His desire to teach music gave way to his passion for performance, playing with a variety of musical groups and moving to the Bay Area in 1980.
Ken joined a pop band traveling the west coast, eventually settling in eastern Oregon. Hooking up with the rock band Tukannon, he traveled extensively throughout the western states and Canada.
Portland became home in the mid 80s where Ken became an integral part of the local blues scene, working with many notable artists such as The Norman Sylvester Band, Paul DeLay, Ellen Whyte and Robbie Laws.
A sound engineer as well as performer, he continues to play regularly at blues clubs in Portland. Interested in spirituality, Ken played and sang at the Unity Church of Lake Oswego for a time, then joined the Friends Band at Portland Center for Spiritual Living in 2005.
Email: brewer.ken1@gmail.com