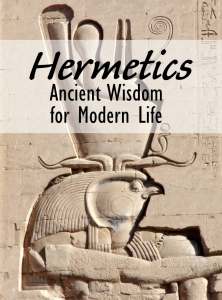 Ancient Wisdom for Modern Life
Facilitated by Rev. Larry King
5-Weeks; Monday Evenings
2/21/2022—3/21/2022; 6:00—8:30 PM PT
The Law of Attraction was just one of seven spiritual principles taught in the Egyptian Hermetic tradition. We will cover all seven. Learn what Moses may have been taught in this interactive case-based online class. Before Christianity, there were the spiritual teachings of Hermes Trismegistus.
This class is held online in our virtual class room. Details, including your Zoom link, will be sent upon registration.
Required text for this course The Kybalion, by "Three Initiates." Note: The book is available for free download on our website or a hardcopy can be purchased from Amazon.com.
$170 Registration
All materials except the required text will be provided to you.
There are no prerequisites for this class.
If You Would Like To Register…