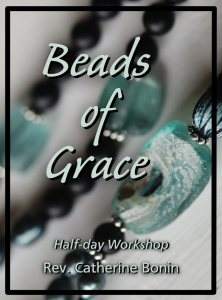 Workshops: (In-Person)
Beads of Grace
In-person; PCSL Upstairs Classroom
Pre-Registration required: $30; includes all materials
Facilitated by Rev. Catherine Bonin

Three Hour Workshop
6/4/2023; 12:30 PM—4:00 PM PT
Complementary Soup and Salad Lunch 12:30 PM PT
1:00 – 4:00 PM PT; In-person; PCSL Upstairs Classroom
Workshop Description:
Join Rev. Catherine Bonin for an "extra boost" after the Sunday service. No need to leave the Center for lunch. A complementary soup and salad lunch is provided for workshop participants, coordinated by your Education Team Members, Licensed Practitioner Emerita Kate Barrett and Licensed Practitioner Nancy Ashley.
And, knowing that physical body needs are met with nutritious food and fellowship, you're invited to open your mind and heart to explore in this workshop how many religious and spiritual practices include the use of beads for times of quiet contemplation. Rev. Catherine guides us in the use of beads in spiritual practices for nine different religions and spiritual traditions. Plus, experience the delight of creating your own strand of prayer beads for Spiritual Mind Treatment.
There are no prerequisites for this workshop. Everyone is welcome.
If You Would Like To Register…