Based on health and safety guidelines, we invite you
to join us 08/09/20 on Facebook Live at the Center for Spiritual Living.
Our service will later be available on YouTube and our audio podcast.
10:50 am — Prelude Music with the "Friends" Band
11:00 am — Celebration Service
Talk Title – "Put Love On The Altar"
Speaker:
Rev. Larry King
Featuring Gabrielle Bernstein's Judgment Detox
When we look through the eyes of love, judgment fades and we begin to allow Love to pave the way for a life of joy and freedom. Learn to lead your life with love and compassion.
---
Inspirational Music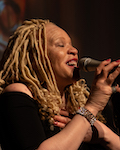 (by our Music Director):
"…the legacy of the love of music will continue on through and as the irresistible Soul music of LaRhonda Steele."
---
Affirmation of the Week
"I am conscious that I am one with all people—in love, in essence, and in joy."—Ernest Holmes This Thing Called You
---
Donations Gratefully Accepted
Although the building is closed, our financial obligations continue. Please consider making a donation, to keep our programs alive and well. You can donate online at https://cslportland.org/donate/.