We invite you to join us this Sunday
at the Center for Spiritual Living
9:00 am – Inward Journey Service
11:00 am – Celebration Service (& Youth Church)
Talk Title – "The Modern-Day Mystic"
Speaker
Rev. Catherine Bonin
Our teaching is often referred to as New Thought/Ancient Wisdom.  Rev Catherine's talk will explore what the mystics of long ago knew and how that knowledge translates into living in the world today.  What are the characteristics of a modern day mystic and how can we develop our own consciousness to have mystical experiences. Can we actually live between two worlds?
---
Inspirational Music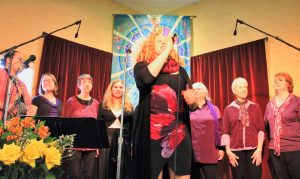 (at the Celebration Service)
Friends Gospel Chorus
Under the direction of LaRhonda Steele and featuring the "Friends" Band: Ken Brewer, Jim Solberg and Don Shultz.
---
Affirmation of the Week:
"I am always guided by the voice of Divine Wisdom and Love."