We are pleased to present a variety of ongoing programs at the Portland Center for Spiritual Living:
PCSL'S Passport Program
New to the Center? Pick up a passport! Our passport program suggests a variety of ways to get started at the Center. For each activity, get a stamp. When you've collected enough stamps, you'll be honored! The passports are available at the back of the sanctuary.
Saturdays, 11:00—12:15 PM
Transcendence—12-Step Ministry for Women
Contact Nancy Ashley at 503-880-0308 for more information.
Sundays, 5:30—6:30 PM
Having Had a Spiritual Awakening Group
A Mindfulness And The 12 Steps Meditation Meeting
This is a 12-Step meditation meeting, cultivating mindfulness in recovery. The meeting is open to members of any 12-step organization. It includes a 15-minute silent meditation, a shared reading of a mindfulness talk on one of the 12-steps, and an insight meditation practice.
1st Saturdays, 12:30 — 2:00 PM
Monthly Social Justice Book Club Meeting
Join us as we continue our study of racism in America and how we can make a difference. We explore racism in all of its forms and ethnicities. Contact Nancy Ashley at 503-880-0308 for more information.
3rd Wednesdays, 7:00 PM
Monthly Meditation Service
The PCSL Practitioners present a meditative service on the third Wednesday of every month.
4th Sundays, 12:30 PM, at Oregon Public House, 700 NE Dekum
AfterWords Over Lunch
Join us for our luncheon discussion of the Sunday message. Meet at the back of the sanctuary and we'll walk to a nearby restaurant and enjoy a meal and discussion together. For more information, contact Janine Stewart (451) 359-7552 or Marci Beck (503) 710-4587.
4th Sundays, Let PCSL Return Your Bottles & Cans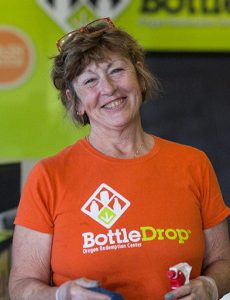 BottleDrop Oregon Redemption Centers
PCSL is part of BottleDrop's Featured Fundraiser Program. Get a special blue bag in the sanctuary and fill it with your returnable bottles and cans. Bring it back to the Center on the 4th Sunday of the month and we'll make your returns for you. The returned deposit is a fundraiser for our Center.