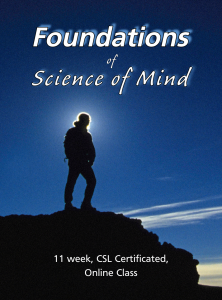 11-week term; Mondays January 8 – March 18, 2024; 6:00 – 9:00 PM PT; PCSL Education Zoom Classroom
Description:
This class presents a new spiritual principle each week and a spiritual practice to support that principle. The Creative Process is introduced at the beginning of the class and then flows through each week, so that the student has the opportunity to embrace principle-centered living, as well as see and use the Creative Process at work in each spiritual principle.
Co-facilitated by Rev. Marilyn Sprague and TA (Teaching Assistant) Kathy Batten, RScP
Required Text: The Science of Mind by Ernest Holmes
Foundations Student Guide provided by your Center.
Registration: $295, includes CSL $45 course registration fee
Licensed Practitioner Review Option: Reduced Tuition and CSL Registration Fee: $220,
includes CSL $20 course registration fee. Note: This option is available solely to Licensed Practitioners who are in good standing.
Please fill out this form, select the correct fee and click submit.