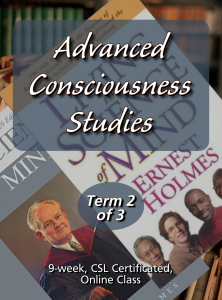 9-week term; Thursdays January 18 – March 14, 2024; 6:00 – 9:00 PM PT; PCSL Education Zoom Classroom
Description:
The Advanced Consciousness Studies Course is a Mastery Level Course. It will guide you on a journey toward what it means to practice the Science of Mind, and to be fully human and fully divine. The theme for Term Two is Consciously Choosing. You'll learn how to incorporate principles and practices into your daily life to create the life you desire.
This class is held online in our virtual classroom. Details, including your Zoom link, will be sent upon registration.
Co-facilitated by Rev. Marilyn Sprague and Ann Forest Burns, RScP
Teaching Assistants: Nancy Ashley, RScP and Donna Wallace, RScP
Registration: $260, includes one-time CSL Course Registration Fee & ACS Student Workbook (Licensed Practitioners, see option below this one).
Note: This class has prerequisites. Contact Rev. Marilyn Sprague, sprague.marilyn7@gmail.com to determine registration eligibility.
Licensed Practitioner Review Option: $210, includes one-time CSL Course Review Fee, Reduced Tuition & ACs Student Workbook Note: This option is available solely to Licensed Practitioners who are in good standing.
Please fill out this form, select the correct fee, and click submit.