In order to live in Peace, we must first find Peace within ourselves. These books and lectures will help you to find Inner Peace and Peace of Mind.
---
Meditations of the Heart by Howard Thurman
Podcasts from 2011-2017 by Rev. Larry King:
The Gift of Silence
A Lull In The Doing
The Dream Of The Heart
Solstice: The Light Within
Christmas: These Gifts
Be Still and Know…
The Pause That Refreshes
Winter Solstice:  Long Live Life!
Christmas Eve:  Gifts on My Altar
The Golden Bowl:  The Moments of High Resolve
Meditations of the Heart is a beautiful collection of meditations and prayers by one of our greatest spiritual leaders. Howard Thurman, the great spiritualist and mystic, was renowned for the quiet beauty of his reflections on humanity and our relationship with God. This collection of fifty-four of his most well-known meditations features his thoughts on prayer, community, and the joys and rituals of life.
At the Center for Spiritual Living we often use Howard Thurman's writings on holidays to capture the peaceful nature of the event.
---
Seven Thousand Ways to Listen by Mark Nepo
Podcasts from 2016 by Rev. Larry King:
Listening To The Infinite
Listening To The Self
Listening To Others
Listening To Love
Nepo inquires into the endless ways life asks us to listen. Having experienced hearing loss, Nepo affirms that listening is one of the most mysterious, luminous, and challenging art forms: "Whatever difficulty you face, there are time-tried ways you can listen your way through. Because listening is the doorway to everything that matters." Weaving together memoir and meditation exercises, Nepo offers many ways to listen to life and live more fully.
---
The Seven Whispers by Christina Baldwin
Podcasts from 2016 by Marilyn Sprague, RScP and Rev. Larry King:
Stay Calm And Carry On
Did You Do It On Purpose?
Surprise Party!
Christmas: Love Is Born Today
Golden Bowl: Return Again
Christina Baldwin leads readers of all spiritual persuasions to listen intentionally to the voice within their soul: the voice of spirit. She does this by sharing seven meditative phrases—the wisdom gained from listening to her own inner spirit.
---
A Life of Being, Having and Doing Enough by Wayne Muller
Podcasts from 2015 by Rev. Larry King:
The Fullness of "Enough"
The Next Right Thing
I'm Enough!
Thanksgiving "Gratitude"
Always Enough
Nationally renowned author, therapist, and minister Wayne Muller offers healing for the perpetually stressed in A Life of Being, Having, and Doing Enough. By learning compassion and mercy for ourselves and by recognizing what is most profoundly true about who we are and what we need, we can gain the self-acceptance so that whatever we choose to do, in this moment, it is wholly enough.
---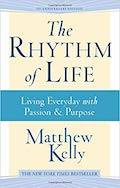 The Rhythm of Life by Matthew Kelly
Podcasts from 2014 by Rev. Larry King:
The Meaning of Life
Myself, Version 2.0
The Rhythm of Life
Living in Grace
In The Rhythm of Life Matthew Kelly exposes the lifestyle challenges and problems that face us in this age obsessed with noise, speed, and perpetual activity. Kelly's message rings out with a truth that is challenging and unmistakably attractive Who you become is infinitely more important than what you do, or what you have. Are you ready to meet the-best-version-of-yourself?
The Rhythm of Life is a brilliant and clear-eyed rejection of the chaotic lifestyle that has captured the world, written with common sense, humor, and extraordinary insight. This book is destined to change lives!
---
The Voice of Knowledge: A Practical Guide to Inner Peace by Don Miguel Ruiz
Podcasts from 2014 by Rev. Larry King:
Sex, Lies and Toltec Wisdom
Life Presented, Life Interpreted
The Voice of the Heart
Open Heart and Open Eyes
In The Voice of Knowledge, Miguel Ruiz reminds us of a profound and simple truth: The only way to end our emotional suffering and restore our joy in living is to stop believing in lies — mainly about ourselves. Based on ancient Toltec wisdom, this breakthrough book shows us how to recover our faith in the truth and return to our own common sense.