Some profound books and spiritual teachings just don't fit into a neat category. Over the last ten years, we've highlighted a number of such teachings that are presented here for your consideration.
---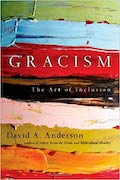 Gracism by Dr. David A. Anderson
Podcasts from 2017 by Marilyn Sprague, RScP and Rev. Larry King:
From Racism to Gracism
The Art of Inclusion
Lifting Each Other Up
I Will Stand and Celebrate
"The parts that we think are less honorable we treat with special honor." 1 Corinthians 12:23. When people deal with color, class or culture in a negative way, that's racism. But the answer is not to ignore these as if they don't matter. Instead, we can look at color, class and culture in a positive way. That's gracism. Pastor David Anderson responds to prejudice and injustice with the principle of gracism—radical inclusion for the marginalized and excluded.
---
The Happiness Project by Gretchen Rubin
Podcasts from 2017 by Rev. Larry King:
The Happiness Project
Serious Play
Happiness On Sale
Wake Up!
The Happiness Project describes one person's year-long attempt to discover what leads to true contentment. Drawing at once on cutting-edge science, classical philosophy, and real-world applicability, Rubin has written an engaging, eminently relatable chronicle of transformation.
---
The Kindness Handbook by Sharon Salzberg
Podcasts from 2017 by Marilyn Sprague, RScP and Rev. Larry King:
Kindness of Spirit
Self-Kindness
The Giving Heart
From the foundation of this transformative practice and its entry point through you, to its daily expression in your life, this book features a thoughtful collection of anecdotes, stories, and practical tools to inspire kindness for any life situation. The Kindness Handbook is your personal companion to explore the rich landscape of kindness—and help you see just how it might shift and open up your life to greater joy, meaning, and compassion.
---
Creative Confidence by David Kelley and Tom Kelley
Podcasts from 2017 by Marilyn Sprague, RScP and Rev. Larry King:
Creative Confidence
Fear of the Blank Page
Duty or Passion?
Confidence to Go
Two of the leading experts in innovation, design, and creativity on the planet show us that each and every one of us is creative. In an incredibly entertaining and inspiring narrative that draws on countless stories from their work, David and Tom Kelley identify the principles and strategies that will allow us to tap into our creative potential in our work lives, and in our personal lives, and allow us to innovate in terms of how we approach and solve problems.
---
Your Life Isn't for You by Seth Adam Smith
Podcasts from 2017 by Rev. Larry King:
Melted Heart
Knock Down the Wall
Light in the Wilderness
Seth Adam Smith shares how living for others can enrich every aspect of your life. With a mix of humor, candor, and compassion, he reveals how, years before his marriage, his self-obsession led to a downward spiral of addiction and depression, culminating in a suicide attempt at the age of twenty. He shares his deep conviction that the only way you can find your life is to give it away to others.
---
E-Squared by Pam Grout
Podcasts from 2015 by Rev. Larry King:
Field of Possibilities
Energetic Me!
Dear Abby
101 Dalmatians
Welcome to the Universe
Don't face reality. Create reality! E-Squared could best be described as a lab manual with simple experiments to prove once and for all that reality is malleable, that consciousness trumps matter, and that you shape your life with your mind. Rather than take it on faith, you are invited to conduct nine 48-hour experiments to prove there really is a positive, loving, totally hip force in the universe.
---
Learned Optimism by Martin Seligman
Podcasts from 2014 by Rev. Larry King:
Learned Optimism
What You Think is What You Are
Applied Optimism
New View, New You
Seligman demonstrates how optimism enhances the quality of life, and how anyone can learn to practice it. He explains how to break an "I—give-up" habit, develop a more constructive explanatory style for interpreting your behavior, and experience the benefits of a more positive interior dialogue. These skills can help break up depression, boost your immune system, better develop your potential, and make you happier.
---
Work: How to Find Joy and Meaning in Each Hour of the Day by Thich Nhat Hanh
Podcasts from 2014 by Rev. Larry King:
The Joy of "Work"
Breakfast of Champions
God at Work
Home at Last
Is It Really Work?
The book's emphasis is on how to use applied Buddhism in daily life. It shows us how to eliminate stress, adopt new models of leadership, doing business and mindful consumption, and tells us how we can move in the direction of achieving sanity and fulfilment in our daily routines. Practical, insightful and easy to follow, Work offers us new ways in which to live and earn our livelihood.
---
How Can I Help? by Ram Dass
Podcasts from 2011 by Rev. Larry King:
Natural Compassion
Who's Helping Who?
The Listening Heart and Mind
Me? Burned Out?
From many personal stories and the authors' reflections, we can find strength, clarity, and wisdom for those times when we are called on to care for one another. How Can I Help? reminds us just how much we have to give and how doing so can lead to some of the most joyous moments of our lives.
---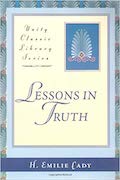 Lessons in Truth by H. Emile Cady
Podcasts from 2010 by Rev. Larry King:
Bondage Or Liberty?
The Power Of Faith
The Place Of The Most High
Spiritual Gifts
Lessons in Truth is a clear, concise representation of New Thought philosophy and metaphysical Christianity. The spiritual concepts presented in these 12 lessons show us how to increase our personal empowerment and enhance our spiritual growth. Dr. Cady teaches that our lives can be transformed by the power of our thoughts, words and beliefs. She encourages us to find our truth as it is written in our own hearts and then apply these truths in every area of our lives.
---
The Mystic Heart by Wayne Teasdale
Podcasts from 2010 by Rev. Larry King and Rev. Sharon Lee Foley:
Finding What Unites Us
The Mirror Of The Heart
The Practical And The Mystical
Natural Mysticism
Drawing on experience as an interreligious monk, Brother Wayne Teasdale reveals the power of spirituality and its practical elements. He combines a profound Christian faith with an intimate understanding of ancient religious traditions.
---
Thanks! by Robert Emmons
Podcasts from 2010 by Rev. Larry King:
The Science of Gratitude
God is Gracious
Grateful or Ingrateful?
Robert Emmons examines what it means to think and feel gratefully in Thanks! and invites readers to learn how to put this powerful emotion into practice. Scientifically speaking, regular grateful thinking can increase happiness by as much as 25 percent, while keeping a gratitude journal for as little as three weeks results in better sleep and more energy.