In order to progress, spiritually, we must become more self-aware and live life more purposefully. It's no longer appropriate to feel a victim of our circumstances, but rather, rise above them and live from a place of intention and awareness.
This series of books and lectures can help you to see beyond the outward appearance of your life and begin to pay attention to your inner world.
---
After the Ecstasy, the Laundry by Jack Kornfield
Podcasts from 2017 by Rev. Larry King:
Preparation for Ecstasy
Through the Gates
Now, the Laundry
Awakening in Place
Drawing on the experiences and insights of leaders and practitioners within the Buddhist, Christian, Jewish, Hindu, and Sufi traditions, this book offers a uniquely intimate and honest understanding of how the modern spiritual journey unfolds—and how we can prepare our hearts for awakening.
---
Daring Greatly by Brené Brown
Podcasts from 2017 by Rev. Larry King and Marilyn Sprague, RScP:
Daring Greatly     (study guide)
Scarce Thinking   (study guide)
Shame on Me?     (study guide)
Cultivating Change     (study guide)
Every day we experience the uncertainty, risks, and emotional exposure that define what it means to be vulnerable or to dare greatly. Based on twelve years of pioneering research, Brené Brown PhD, LMSW, dispels the cultural myth that vulnerability is weakness and argues that it is, in truth, our most accurate measure of courage.
---
The Art of Possibility by Rosamund Stone Zander and Benjamin Zander
Podcasts from 2016 by Rev. Larry King:
A Universe Of Possibility
Contributions Gratefully Accepted
Beyond The Way Things Are
Courting Possibilities
Presenting twelve breakthrough practices for bringing creativity into all human endeavors, The Art of Possibility is the dynamic product of an extraordinary partnership. Through uplifting stories, parables, and personal anecdotes, the Zanders invite us to become passionate communicators, leaders, and performers whose lives radiate possibility into the world.
---
The Dark Side of the Mind by Alba Alamillo
Podcasts from 2016 by Rev. Larry King and Sharon Lee Foley:
The Basis Of Belief
Negative And Positive
Self-Esteem Workout
No More Mr. Nice Guy
This book is about understanding that side of our minds that simply doesn't want to cooperate. With this book, you will understand the real workings of that powerful mind of yours, and you will be able to easily change the beliefs that have been holding you back. You will not only learn a lot, you will love the anecdotes and laugh in the meantime.
---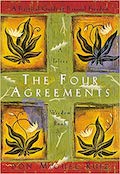 The Four Agreements by Don Miguel Ruiz
Podcasts from 2015 by Rev. Larry King:
Be Impeccable With Your Word
Don't Take Things Personally
Don't Make Assumptions
Always Do Your Best
Don Miguel Ruiz reveals the source of self-limiting beliefs that rob us of joy and create needless suffering. Based on ancient Toltec wisdom, The Four Agreements offer a powerful code of conduct that can rapidly transform our lives to a new experience of freedom, true happiness, and love.
---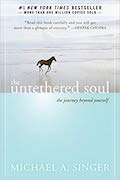 The Untethered Soul by Michael Singer
Podcasts from 2011 by Rev. Larry King and Rev. Sharon Lee Foley:
Who Am I, Anyway?
The Spiritual Heart
Free Yourself
Beyond Limits
Living the Gift of Life
This book will transform your relationship with yourself and the world around you. You'll discover what you can do to put an end to the habitual thoughts and emotions that limit your consciousness. By tapping into traditions of meditation and mindfulness, author and spiritual teacher Michael A. Singer shows how the development of consciousness can enable us all to dwell in the present moment and let go of painful thoughts and memories that keep us from achieving happiness and self-realization.