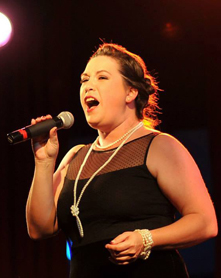 CHRISTINA BREWER was born at Tacoma General Hospital in Tacoma, Washington on June 12, 1980 to a young mother by the name of Jennifer.  At the age of 2 months, she was adopted by Dale and Sharon Brewer, which was, undoubtedly, a match made in heaven.  Adopted into a family where music and the arts abound, Christina's innate music talents flourished.  Her mother was a self-taught pianist and her father was in a Christian vocal group called Vision.  Christina fondly remembers visiting her granddad's house where the basement bar would be filled with the beautiful ballads of Billie Holiday, Etta James, Ella Fitzgerald, and Lena Horne (not to mention countless others).  He always said that jazz and soul music was in her blood.  I guess he was right!
Christina began singing at the age of 2 and had her first solo performance in her church at the age of 2 and a half.  From there, she flourished on the stage, becoming a vocalist, pianist, and actress (not to mention the other musical instruments she was studying).  Between the ages of 5 and 12, she held roles in all of the annual  school and church productions, sometimes holding 2 to 3 lead roles per year.
Christina graduated with honors from Stadium High School and then attended Tacoma Community College on a full tuition scholarship intended solely for First Generation College Students. After graduating from TCC, yet again with honors, she continued onto Seattle University where she  graduated Cum Laude in 2007 with a Bachelor Degree in Psychology.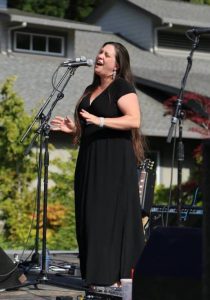 Christina currently works for TRiO Student Support Services at Pierce College.  In addition to her "9 to 5," she uses her other time to fuel her passion for jazz, neo-soul, rhythm and blues, and gospel music and indulges in her enjoyment of musical theater and acting.  It is "the creative" that brings Christina to life.  Christina's passionate nature is infectious and she loves every part of life that it has to offer!  She is music and creativity to the core of her soul.  Christina says "If there is one thing that I have learned, it is the truth that when music is the language of your soul, it cannot ever be turned off!"
Most recently, Christina has joined together with the fabulous pianist Cheri Neill to create Lucca Love Rising, where the passion for jazz, blues, pop, and gospel are fused together to make beautiful music.
Email: crbrewer22@gmail.com
Phone: (253) 232-8468Christ
Web: https://christinabrewer.weebly.com