KAREN HABERMAN TRUSTY has shared her Civil Rights experiences in many places, including the Universities of Wisconsin, Tennessee, Southern California, San Francisco State and Portland State University, as well as the Museum of the African Diaspora in San Francisco, the Salem Juvenile Detention Center, Oakland alternative school, Salem middle school and the Portland Public Schools.
She assisted Dr. Roberta Hunte in her 20th Century Experience class and in her Facing History, Facing Ourselves class at Portland State University.
In 2010, she was awarded an MLK "Lifetime Achievement Award" from the World Arts Foundation.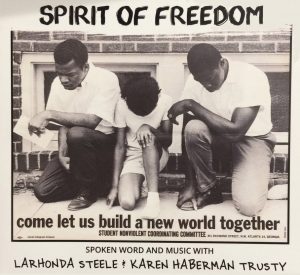 Recently, Karen and LaRhonda Steele have founded the duo "The Spirit of Freedom" which showcases the songs of the Civil Rights Movement and their relevance to then and now.
Karen has been a freedom fighter ever since she was 19 and maybe before that when she was just a rebellious child. After high school on Long Island, New York, she went to Connecticut College for Women. In 1963, she went as an exchange student to Spelman College, an historically black college in Atlanta, Georgia, where she joined the Freedom Movement led by the Student Nonviolent Coordinating Committee, SNCC. She was arrested twice at Lester Maddox's all white restaurant in 1963 and jailed with the black protestors. On July 4th, 1964, she was beaten while protesting at a white nationalists' rally at Stone Mountain in Atlanta, Georgia. During Freedom Summer she worked in the SNCC communications department under Julian Bond in Greenwood, Mississippi.
"It was the best thing I ever did. I was introduced to Spirit, Justice, Freedom songs and what mealy matters in this world. I am forever grateful to SNCC, the Spirit of History, and the Light, which is in and surrounds us all. I am also grateful for the music which I carry with me always."
Email: ktobas@gmail.com
Web: https://www.inrarefiedair.com