KATHRYN RICHER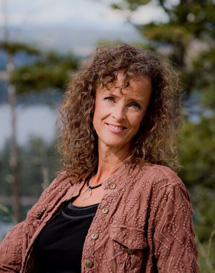 was born in a thunderstorm in Deerlodge, Montana. She feels both awed and humbled by the power of nature. She's pretty sure that's when the Cosmos struck her as its fiery messenger. Her curiosity and passion for spiritual traditions and working closely with people began in her early years.
"In 2011, after hearing a good friend rave about the Portland Center for Spiritual Living for a year or better, I went to a service there. I felt so much at home I cried the whole time. In addition to it being a wonderful spiritual community I'd been seeking for many years, the philosophy and way of life resonated deeply with me. Four years later, after rigorous study and only two existential crises, I became licensed by the Centers for Spiritual Living as a Spiritual Practitioner."
Kathryn is available for individual Practitioner sessions, as an officiant for sacred ceremonies and as a customized retreat/workshop presenter.
Email: richerwithin@gmail.com
Web: https://www.richerwithin.com/