We generally offer a variety of workshops and classes throughout the year. Below are listed some of our upcoming offerings. Click on "Details and Registration" for more information, prices and to register. Our classes are currently offered online.
Other Classes and  Workshops
---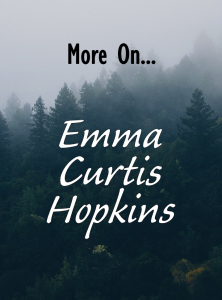 Facilitated by Kate Barrett, RScP
and Rev. Marilyn Sprague
8 Weeks; Thursdays, 7/22/2021—9/9/2021; 5:00—8:00 PM PT

Emma Curtis Hopkins is referred to as the Metaphysical Teacher of Teachers. Through readings, discussion and experiential exercises, this online Spiritual Study Course features Lessons 7 through 12 of her twelve lessons in Truth.