We are a volunteer led and managed organization and celebrate the many volunteers that help to make Portland Center for Spiritual Living thrive.
We are currently seeking additional volunteer staffing in the following areas:
Youth Church Teacher
This is a wonderful chance to have fun with kids while teaching Science of Mind principles. There are two groups of children–the younger group is from 0-6 and the older group from 7-12. If you have a desire to work with either group, please contact Sean Larkin at 503-702-0183. We are looking for regular and substitute teachers. Both receive stipends to offset expenses.
In Full Bloom!
Contribute to the beauty of our sanctuary through the donation and dedication of Sunday floral arrangements. A sign-up calendar and forms are available at the back of the sanctuary.
Home is Where the Heart Is
The Hospitality Team
Erin Hurt is looking for a person or two to round out our Hospitality Team on Sundays. Duties include making coffee and setting up treats for either the 9 AM or 11 AM service on one Sunday a month. For more information, contact Erin Hurt at 360-909-4971.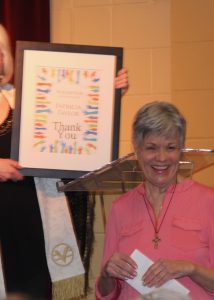 First Impressions
Ushers and Greeters and the "Clean Team"
Anette Bolster has an opening for Ushers and Greeters at either Sunday service. Become that friendly smile that welcomes people to our spiritual home. She also has a new opening for people who help to clean our space. The "Clean Team" maintains our clean and lovely environment. For more information, contact Anette Bolster at 503-970-4116.