Word Cards have returned!
$3.50 Each!
Order a "Word Card" to contemplate for the coming year. The cards are pre-wrapped so no one knows what word is on the card until the recipient opens it. The cards were created knowing that Divine Wisdom will guide the right word and quote to the right person. If the "Word" does not seem relevant, place it somewhere visible. Wait and be amazed as it reveals its significance sometime during the year.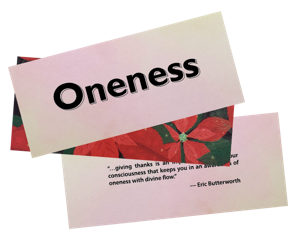 Word cards make for fun Holiday and New Year's gifts for family and friends. They also make great stocking stuffers.
Each 7″ x 3″ card contains a "word" on the front and a "quote" on the back. Each card is laminated and gift-wrapped.
They will be available for purchase online from November 21, 2021 to January 31, 2022.
Orders will be mailed through USPS and shipping charges are included in the price. Enter your address carefully and be sure to include any apt or unit number if necessary. Order soon to allow delivery before Christmas but remember they can also be used as gifts for the new year.