1st Session


Sat, May 8, 2021




1:00 pm - 3:00 pm

2nd Session


Sat, May 22, 2021




1:00 pm - 3:00 pm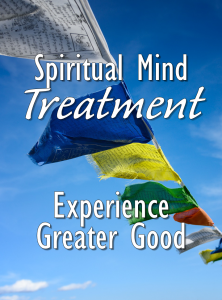 Facilitated by Rev. Marilyn Sprague
2 Sessions; Saturdays 5/8 and 5/22; 1:00—3:00 PM PDT

Spiritual Mind Treatment is renowned for its transformational power to reveal greater good in seeming appearances of lack. In this two-part workshop, an easy-to-use method for moving from an undesired condition to naming and claiming greater good through Spiritual Mind Treatment is introduced. 
"What we have to overcome is not conditions in themselves,
but the thought that there is any power opposed to good,
or any presence other than the presence of perfect life."
—Ernest Holmes, Words That Heal Today
$75 Registration Fee
There are no prerequisites for this online workshop. This is a hands-on, applied spiritual practice workshop. All adults are welcome to participate.
Address:
Event(s) conducted via Zoom Teleconferencing
, offices located in:,
Portland
,
Oregon
,
United States
Description:

This event is offered online via Zoom Video Teleconferencing. Instructions will be emailed to you with links to download materials for class and/or other considerations after registration is complete.
Zoom unifies video conferencing, online meetings and classes, and group messaging into one easy-to-use platform. Zoom provides the best video, audio, and wireless screen-sharing experience across multiple platforms. You'll want to download the free software before your first class or event.
Learn about the basic features of the Zoom client software on Windows and Mac or on mobile devices such as the iOS or Android operating systems.