First Class: Week 1


Thu, July 22, 2021




5:00 pm - 8:00 pm

Week 2


Thu, July 29, 2021




5:00 pm - 8:00 pm

Week 3


Thu, August 5, 2021




5:00 pm - 8:00 pm

Week 4


Thu, August 12, 2021




5:00 pm - 8:00 pm

Week 5


Thu, August 19, 2021




5:00 pm - 8:00 pm

Week 6


Thu, August 26, 2021




5:00 pm - 8:00 pm

Week 7


Thu, September 2, 2021




5:00 pm - 8:00 pm

Week 8


Thu, September 9, 2021




5:00 pm - 8:00 pm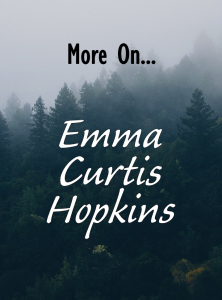 Facilitated by Kate Barrett, RScP
and Rev. Marilyn Sprague
8 Weeks; Thursdays, 7/22/2021—9/9/2021; 5:00—8:00 PM PT
Emma Curtis Hopkins is referred to as the Metaphysical Teacher of Teachers. Through readings, discussion and experiential exercises, this online Spiritual Study Course features Lessons 7 through 12 of her twelve lessons in Truth.
These lessons are often referred to as "Ministry." They show us how we demonstrate our understanding of Principle in loving service to each other and how to use Spiritual Principle in all situations or circumstance.
$175 Early-Bird Special (if registered on or before 6/27/2021)
$200 Regular Registration (after 6/27/2021)
Required texts for this course:
Scientific Christian Mental Practice by Emma Curtis Hopkins
Unveiling Your Hidden Power by Ruth L. Miller, Ph.D.
(order your texts to be received by the start of the first class).
Address:
Event(s) conducted via Zoom Teleconferencing
, offices located in:,
Portland
,
Oregon
,
United States
Description:

This event is offered online via Zoom Video Teleconferencing. Instructions will be emailed to you with links to download materials for class and/or other considerations after registration is complete.
Zoom unifies video conferencing, online meetings and classes, and group messaging into one easy-to-use platform. Zoom provides the best video, audio, and wireless screen-sharing experience across multiple platforms. You'll want to download the free software before your first class or event.
Learn about the basic features of the Zoom client software on Windows and Mac or on mobile devices such as the iOS or Android operating systems.