We're sorry, but all ticket sales have ended.
Class #5


Mon, November 2, 2020




6:30 pm - 8:00 pm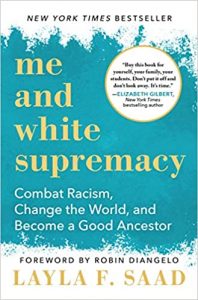 Monday Nights; 6:30—8:00 PM, Oct. 5—Nov. 2
Facilitated by Rev. Larry King
In this 5-week book study and journaling class we will dive deeply into the heart of unconscious bias and racism to learn how we can make a difference at this pivotal time in history.
We'll be using the book, Me and White Supremacy by Layla Saad. The book will lead us in a reflective 28-day inward journey that will be supported by this five-session study experience.
We hope that you will accept this invitation to do the personal work towards greater inclusion, allyship and healing in a supportive group environment.
If you are wondering why we are structuring this journey as an affinity group for white people, it is because it is our responsibility to do this work. It is our intention that this program will create a space to be honest without shame or judgment—an opportunity to learn and grow together.
There is no charge and there are no prerequisites for this class, but you must purchase the required text and commit to the 28-day journalling experience.
Address:
Event(s) conducted via Zoom Teleconferencing
, offices located in:,
Portland
,
Oregon
,
United States
Description:

This event is offered online via Zoom Video Teleconferencing. Instructions will be emailed to you with links to download materials for class and/or other considerations after registration is complete.
Zoom unifies video conferencing, online meetings and classes, and group messaging into one easy-to-use platform. Zoom provides the best video, audio, and wireless screen-sharing experience across multiple platforms. You'll want to download the free software before your first class or event.
Learn about the basic features of the Zoom client software on Windows and Mac or on mobile devices such as the iOS or Android operating systems.