We're sorry, but all ticket sales have ended.
Gratitude Happy Hour!


Tue, November 24, 2020




4:00 pm - 5:00 pm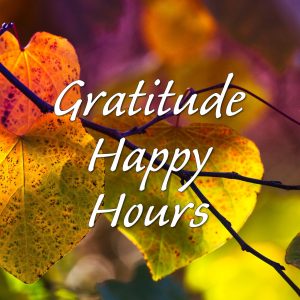 Tuesday Nights; 4:00—5:00 PM PST, November 10, 17 and 24
Facilitated by Rev. Marilyn Sprague
Gratitude Happy Hours—Uplifting Support to Gain Momentum
Each session includes a therapeutic laughter workout, just for the mirth of it, plus, small group discussions to share our 21-day Gratitude Challenge successes, form new connections, and have fun! Come to one, or come to all of them (initial registration required). You only need one "ticket" to get you into any or all of the Happy Hours.
Why therapeutic laughter?
It's been said that laughter is the best medicine. Gratitude Happy Hour reveals how laughter can lighten up your mental workload. In Gratitude Happy Hour, you'll discover:
How laughter can improve your health, without the use of jokes or humor;
How to tap into your inner spirit of Joy to prevent hardening of the attitudes; 

and

See how "fun" is our dominant way of knowing, being, and creating value.
"When you're laughing, you discharge tension associated with four primary negative emotions—depression, anxiety, fear and anger."

William Fry, M.D. Stanford University
Gratitude Happy Hour will uplift, invigorate and energize you with a therapeutic laughter workout sensation; and, have you smiling and laughing–the perfect boost to stay the course and complete the 21-day Gratitude Challenge.
Address:
Event(s) conducted via Zoom Teleconferencing
, offices located in:,
Portland
,
Oregon
,
United States
Description:

This event is offered online via Zoom Video Teleconferencing. Instructions will be emailed to you with links to download materials for class and/or other considerations after registration is complete.
Zoom unifies video conferencing, online meetings and classes, and group messaging into one easy-to-use platform. Zoom provides the best video, audio, and wireless screen-sharing experience across multiple platforms. You'll want to download the free software before your first class or event.
Learn about the basic features of the Zoom client software on Windows and Mac or on mobile devices such as the iOS or Android operating systems.