I got hooked on opera from watching the movie "A Room With A View." The opening credits have Kiri Te Kanawa singing "O Mio Babbino Caro" from the short Puccini opera Gianni Scicchi. It was so beautiful that I just closed my eyes and listened. When I found out that the music was from an opera (something that I knew nothing about), I decided I should experience an opera in its complete form.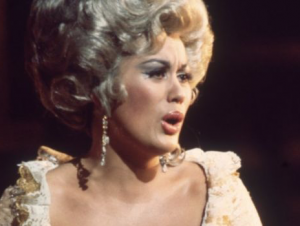 Operas are an unlikely mix of improbable (and often just plain stupid) plots, lavish staging, sometimes-boorish acting and magical music and singing. There's something about this juxtaposition of elements that just grabs my heart. It makes the singing more beautiful, the tragedy more believable and the visual impact more heart-felt. It's hard to explain. A well-sung Italian opera has me right where it wants me!
At the opera not too long ago, I saw that the program had a notice. The opera company was looking for "supernumeraries" for an upcoming run of the opera Aida. Not understanding the term, I asked my friend Susan what a supernumerary was? "Oh," she replied, "it's one of the people on stage that have no singing or speaking parts. You know, someone who might hold a sword in a battle scene or a fan in the Diva's parlor."
I immediately pictured myself in my favorite opera as one of the supernumeraries. What fun it would be to put on make-up and a costume and be on the stage! Being part of the cast—going to the cast party! Helping to put on something as grand and lavish as an opera.
Trouble is—you can probably see it coming—I wanted to be the Diva and not the supernumerary. I wanted to have the dress as big as a sports car (metaphorically speaking). I wanted to sing with such glory and power. The Diva gets to open the hearts of everyone. She (or the Divo if it's a he) gets to use the power of her voice to create a transformation. The silly plot, costumes, lighting, set and sometimes stodgy acting all fall away and the heart is opened to something magical. Something transformational.
This is what I chose. Rather than try out to be a supernumerary in the opera, I decided to be a Divo in my own life. I get to choose the plot, the costumes and the staging. I get to pick out what I'm going to think, to say, to be. Through the beauty of my own heart and authentic presence, I have that power to transform. I have what's necessary to take the odd collection of elements from my own life and make it magical. I have a bold, beautiful, inspirational song to sing. By my clear intentions and cultivated thoughts, I will be the Star of my own life.
And so can you.
If you get a chance, listen to Kiri Te Kanawa singing "O Mio Babbino Caro." Then ask yourself, "Supernumerary or Diva?"