Much of the time I ignore popular culture. Whether it's in the news, on TV or in the magazines at the checkout stand—most of what I see is about people making bad choices. Popular American culture seems to take great delight in things gone wrong—especially for the rich or famous. I also expect that much of what I see may be "made up" for publicity or to knock people off the pedestal of movie stardom.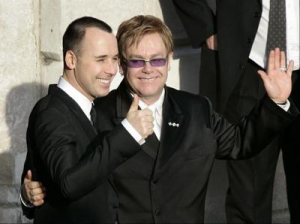 I couldn't help but notice how singer Elton John has been in the news lately. The checkout stand is all a-buzz. Sir Elton John (and his longtime partner, David Furnish) had a baby. This is not so amazing in this time of adoption and surrogate parentage. What is amazing is the tabloids are not sending Sir John to purgatory over it. They're not even evaluating his anticipated parenting skills. They're on his side by saying that America needs to better tolerate, support and understand non-traditional families.
In USA Today, when Sir John was asked to comment on some of the recent violence against the LGBTQ community he replied:
"We've come so far, with a black president, it's mystifying that this can still be going on.

"Jesus Christ taught tolerance. That's the example we should follow. We should forgive, understand, be compassionate. We're not all the same. Thank God! It would be so boring."
Two days ago he hosted his annual Elton John AIDS Foundation benefit. He was honoring the memory of AIDS activist Ryan White. The teen died of AIDS 20 years ago and helped combat prejudice and ignorance associated with the disease at the time. Sir John said White was an "amazing boy who had no prejudice, no bitterness … God do we need that kind of thing in America at this moment."
It's not surprising that Elton John stands for inclusion, tolerance and support for the LGBTQ community. After all, he was one of the early celebrities to self-identify as gay. He knows what exclusion can feel like—and he works to end it in his charitable endeavors.
What is so wonderful to me is that this is newsworthy. Does the media really understand that we need to embrace all of our human family? Are the Associated Press, Reuters and TV media just in love with Elton John—or are we experiencing a time when even popular culture must recognize that everyone is worthy of love, life, compassion and their own unique brand of happiness?
Rev. Larry King
Portland Center for Spiritual Living