Take the Challenge…

You are being challenged to use daily gratitude affirmations for 21 consecutive days to expand your ability to receive good. The gratitude affirmations are posted daily on PCSL's Facebook, Instagram and Twitter pages or you can subscribe below, to receive the daily gratitude affirmations via email.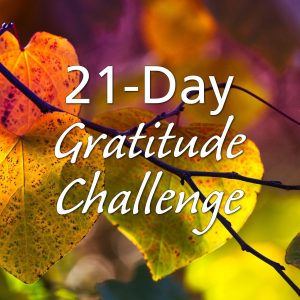 The 21-day Challenge begins on Thursday, November 5th and ends on Wednesday, November 25th—just in time for our annual Gratitude Eve Celebration service—this year delivered via zoom teleconferencing.
On Day One (Thursday, November 5th), begin the 21-day Gratitude Challenge by reading the daily gratitude affirmation aloud. Throughout the day, recite the affirmation at least 99 times. You can do this at one time as part of your daily spiritual practice, or you can sprinkle the affirmation recitation throughout the day. Just be sure you have repeated the affirmation aloud 99 times before going to bed.
Also each day, the Social Media posting or e-mail has a contemplative question. The question encourages you to begin looking at the many ways the affirmation is already at work in your life. Remember, the gratitude affirmations are written to build confidence in expanding your ability to receive greater good. It's always encouraging to see progress being made.
…and Join Us for Happy Hours