William (Bill) Silas Lawson
April 18, 1929—October 16, 2020
Bill Lawson of Gresham, Oregon was born on 4/18/1929 in Vacaville, California to Edna and Steward Lawson. Bill was one of six children, including sisters Marion James, Evelyn Coburn, brothers Jerry Lawson, Mick Lawson and Bert Lawson, all of whom preceded him in death.
Bill was married to Shirley Lawson (née Walters) for 62 years until her death in 2017.
Bill was a union electrician with IBEW until his retirement in 1991, but he is probably best remembered and loved as a musician, songwriter, singer and actor. As an actor, Bill performed for many years with the Sandy Community Players and Gresham Little Theater, as well as Mount Hood Repertory Theater, Oregon Children's Theater and others. As a musician, singer and songwriter, Bill performed with the Mount Hood Community Choir, was a founder of a choir through Courtyard Fountains in Gresham, where he and wife Shirley were residents for many years, and performed in church and many other venues.
Bill was very active with the Church of Religious Science, first as a charter member of the San Jose chapter in 1957, and more recently through the Portland Center for Spiritual Living, where he was licensed as a practitioner in 1990, and from 2010 served as Practitioner Emeritus. Bill's testimonial to the transformative power of the Science of Mind philosophy was the manner in which he approached everyday life.
You can listen to him open the Sunday Service in prayer on 2/27/2011 as part of his service to his spiritual community.
Bill passed away on October 16, 2020 at the age of 91 at Legacy Emmanuel Hospital after sustaining a head injury from a fall. He is survived by son Robert Lawson of Seattle, daughter Sheryl Jackson and son-in-law Alan Jackson of Gresham, son Rick Lawson and daughter-in-law Karen Lawson of Tigard, grandchildren David Fuhrer, Eric Fuhrer, Corina Todea, Christian Lawson, Kevin McAllister, Nichole McAllister, Stephanie Fuhrer, as well as great-grandchildren Ben Jones, Matthew Stiles and Cadence Stiles.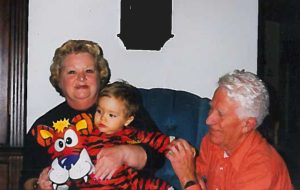 Private burial with immediate family will be at Forest Lawn Cemetery in Gresham on Wednesday, October 21. A public celebration of Bill's life was held by the Center for Spiritual Living on 11/14/2020 at 2:00 PM using Zoom teleconferencing (see embedded video below).
In lieu of flowers, the family asks that donations be made to Nutz-N-Boltz Theater in Boring, OR; http://nnbtheater.com/theater/support/, or Play it Forward; https://pifmusic.org/donate-2/.
"Bill's hair was thick, a little long, combed back in an impressive poof, and snow white. His eyes, set in a heavily lined face, were the light, sparkling blue of the interior of a glacier but they radiated warmth.
He was a soft spoken man. He was a strong man."

Friend Mary's description from a writer's workshop.
For music lovers, listen to Bill play the guitar and sing in these video recordings:
https://vimeo.com/98292343
https://vimeo.com/468990472
Here's one of Bill's nature poems:
Ode To Multnomah Falls

Water rushing down the mountainside
looking for a place to hide
flowing to the crashing tide
finding there a free ride
to the ocean's other side.
Here's the video recording of his Celebration of Life Service held 11/14/2020: